Meeting Marley was so special. She is s 15 yr almost 16yr old American Staffordshire Terrier. Mom was seeking both studio and beach portraits of Ms. Marley so we decided to do a studio session and also head down to Coronado Beach for sunset. Let me tell you, Coronado Beach for sunset portraits rarely disappoints! A little (ok a lot) sad, but Marley is sick. We designed the session with Marley's comfort in mind. When the flooring on the cream background was too slippery for her little legs, we switched to a black vinyl with more grip. Before we made the switch Marley struck this pose with mom and it was an absolute favorite of mine! She is SO happy with her mama!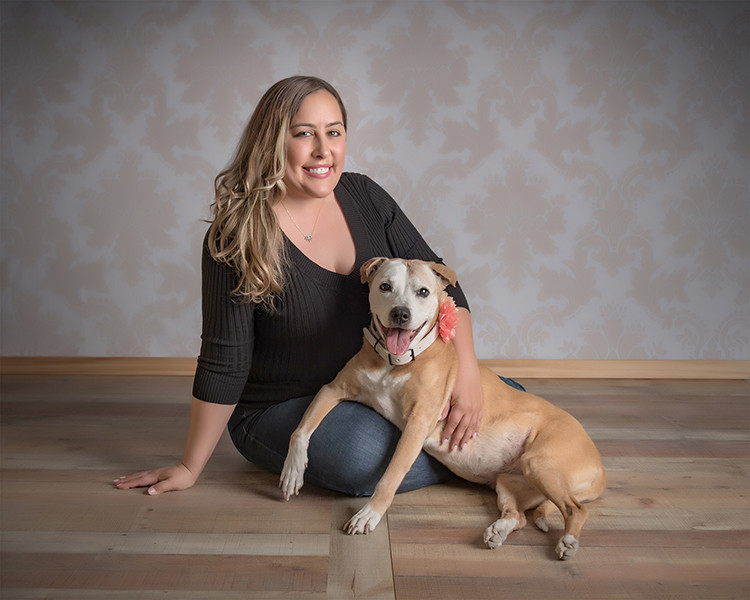 When we arrived at Coronado Dog Beach we considered putting her in a wagon, but Marley was happy to walk. Marley and mom both took a little dip in the ocean (sorry about that mom) and we were able to capture some amazing shots. When we were leaving Mom told me this was probably Marley's last visit to the beach. I hope she is wrong, but in case she wasn't I'm so glad that Marley had an amazing last visit to the beach. Much love to Marley and her mom!
UPDATE: Grab your tissues. 

Marley's mom reached out to me on 2/24 about a possible portrait session. I don't know what made me do it, but during our initial chat I went ahead and wrote Marley down on my calendar for 3/8. 
Marley's mom checked with a couple other photographers and got back to me on 3/3 and told me that 3/8 was the only day she had available. I thought PERFECT because my weird self has already scheduled you for that day anyway (but she didn't know that.)
During the entire session I was laser focused because I wanted Marley's mom to have the most beautiful portraits of her baby. During the Portrait Reveal Session after the photoshoot Marley's mom chose some beautiful art of MarMar and also ordered the heirloom keepsake book of her most favorite images. 
On 3/20 I opened Instagram and saw the news I didn't want to see. Just 12 days after Marley's portrait session she went to the rainbow bridge. Now, these photos and memories are all Marley's mom has left. 
The majority of the art order had already arrived at the studio, so I took it over to her house on Sunday. Marley's mom told me sweet stories of Marley and we laughed and we cried together. Why am I telling you all of this? Because I don't want memories and moments to pass you by. I want you to have beautiful and treasured artwork of your pets and people to have not just today, but for the rest of your life. 
Whether you have a young pupper or a faithful companion who has been by your side for over a decade, it's always a great time to book a session and create these lasting memories. If you're curious about a session reach out to me! I'd love to hear from you! 901-848-0668 https://www.instagram.com/gretchenoterophotography/www.GretchenOtero.com